Homages to Jesús Gómez and the Resignation of Ramon Flecha

HOMAGES TO JESÚS GÓMEZ
On the 08/08/06 Jesús Gómez Alonso died. He was a lecturer in the MIDE Department (Research Methods and Assessment in Education) in the University of Barcelona , as well as a member of CREA. The farewell ceremony was held on the 9 th of August 2006 in the Tanatorio de Sancho de Ávila in Barcelona
Homage held for Jesús Gómez, Pato
2/9/2006 Held in Bilbao
9/9/2006 Organised by friends of Pato from CREA
3/11/2006 Homage in la Verneda Adult Education School ( Barcelona )
8/11/2006 Homage in Madrid organized by Atlántida
30/10/2007 Homage organized by the MIDE Department (Research Methods and Assessment in Education) for Jesús Gómez Alonso "Pato"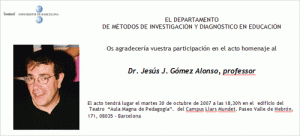 Publications and dedications in memory of Pato
The DIE journal in Germany remembered Pato in this edition
The Youtrain European Project Team, dedicated their project guide to Jesús Gómez "Pato"
CREA decided to promote the "Theories on Love" line of research.
Friends of Pato set up the Jesús Gómez "Pato" Foundation
For more information please see the following website:http://www.fundacionjesusgomez.org/catala/contribucions.htm
---

RESIGNATION OF RAMON FLECHA
On the 1st of September 2006 Ramon Flecha presented his resignation to the Rector of the University of Barcelona . On the 30th of November, the Rector accepted his resignation as the director of the centre. Read the corresponding document here
Professor Ramon Flecha, Doctor Honoris Causa awarded by the Universitat de Vest TimisoaraOn the 11th of October 2007 Ramon Flecha, a professor in the University of Barcelona , was awarded with a Doctor Honoris Causa degree by the Universitat de Vest Timisoara at the suggestion of the Department of Sociology and the Faculty of Sociology and Psychology in that Romanian University . Dr. Josep Mª Rotger, the Head of the Sociological Theory, Philosophy of Law and Social Sciences Methodology Department in the University of Barcelona was invited to sit at the presidential table. He was accompanied by the rector of the Romanian university and other staff from that university. Amongst various other merits, the Universitat de Vest Timisoara highlighted the development of the communicative research methodology in the ceremony, which was also the subject of his speech. The day before the award ceremony a seminar on the scientific contributions of Dr. Flecha was carried out for PhD students and professors. The Timisoara press and Romanian television attended the ceremony, and highlighted Ramón Flecha's involvement in the fight against discrimination and his development of transformative social projects.
Interview with Ramón Flecha in the revista Escuela
Letter of gratitude to Ramón Flecha for the work he carried out as the Director of CREA.