Lourdes Rue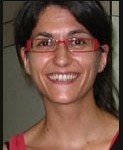 Academic category: Predoctoral Researcher APIF at the University of Barcelona.
Lines of research: Dialogue Science and Society.

SELECTED RESEARCH PROJECTS:
TRAMS: Training and Mentoring of Science Shops. FP6 - RTD. DG XII. Science and Society. European Commission. (2004-2007).
Lectura dialógica e igualdad de género en las interacciones en el aula. Ayudas destinadas a la realización de investigaciones y estudios sobre las mujeres. Plan Nacional de Investigación Científica, Desarrollo e Innovación Tecnológica. Ministerio de Trabajo y Asuntos Sociales. Instituto de la Mujer. (2004-2005).
Educació en valors per la prevenció de la violència de gènere als Instituts d'Educació Secundària.Ajuts a la Recerca. Agència de Gestió d'Ajuts Universitaris i de Recerca. Departament d'Universitats, Investigació i Societat de la Informació (AGAUR). (2004-2005).

SELECTED PUBLICATIONS:
Díez-Palomar, J., Rue L. & García P. (2010). Matemàtiques i grups interactius: ensenyament i aprenentatge des del punt de vista de les interaccions. Temps d'Educació, 38, 135-151.
Rué, L.; Soler, M.; Flecha, R. (2005): Opening the Barcelona Science Park to the Neighbourhood. Living Knowledge. International Journal of Community Based Research. pp. 18-19.