Aitor Gómez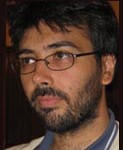 Academic category: Professor at the Department of Pedagogy, University Rovira i Virgili Tarragona.
Doctoral dissertation: Capitalització de l'atur (desempleo), empreses d'economia social; un camí cap a la inclusió. (Defended at the University of Barcelona).
Lines of research: Fight against social exclusion and for social cohesion, welfare policies, labour market.

SELECTED RESEARCH PROJECTS:

EUROPUB. European Public Space Observatory. RTD, European Commission. (2001-2004).
ETGACE. Educación y formación para la gobernabilidad y la ciudadanía activa en Europa. Análisis del aprendizaje adulto y diseño de estrategias de intervención educativa formal, no formal e informal. RTD, European Commission. (2000-2002).
INPART: Inclusion through participation. TSER, European Commission. (1998-2000).
SEDEC Network. Comparative Social Inclusion Policies and Citizenship in Europe: Towards a New European Social Model. TSER, European Commission. 1998-2000.
AMAL: Inmigración y mercado laboral. Plan Nacional I+D+I 2000-2003. Programa de socioeconomía. Ministerio de Ciencia y Tecnología. Secretaría de Estado de Política Científica y Tecnología . (2001-2005).

SELECTED PUBLICATION:
Articles:
Gómez, A., Puigvert, L. & Flecha R. (2011). Critical Communicative Methodology: Informing real social transformation through research. Qualitative Inquiry, 17 (3), 235-245.
Arriaga, M.; Gómez, A.; Elboj, C. (2004): Posibilidades para la comunidad gitana en el mercado laboral del estado español. Lan Harremanak. Revista de Relaciones Laborales, vol. 11, pp 65-79. Bilbao.
Flaquer, L.; Oliver, E.; Gómez, A. (2004): Polítiques de suport a les famílies. Guix d'Infantil, n° 20 , pp. 10-14.
Andreoti, A.; Minigione, E.; Kazepov,Y.; García, M. & Gómez, A. (2001): The Southern European Model. Journal of European Area Studies (JEAS) Vol. 9, no 1, 43-63 .
Gómez,A. (2001): Erfaringer med kapitaliseringen af arbejdsløshedsunderstøttelsen i Spanien. Tidsskrift for Arbejdsliv No 1, 79-87.
Books:
Gómez, A. y Jodar, I. (2000):  La Alfabetización. Barcelona: Universitat Ramon Llull. Barcelona.
Book chapters :
Gómez, A.  (2000): The capitalisation of unemployment benefits scheme. Van Berkel, R. & Hornemann. Active Polices in the EU. Inclusion through participation?,   pp. 157-178, Policy Press.