Sandra Girbés Peco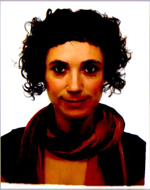 Academic category:  Predoctoral researcher. Department of Didactics and Educational Organization. Faculty of Pedagogy, Barcelona University.
Lines of research: Learning communities, community participation, social exclusion, dialogic learning, comunication.
---
SELECTED RESEARCH PROJECTS:
RESEARCH: European RTD. Framework Program:
PROJECTS: European Projects:
Learn for Work and Life! One Step Up – Lewel-UP. European Commission GRUNDTVIG. Lifelong Learning Programme.
PROJECTS: Applied Research:
Comunitats d'Aprenentatge. CREA, Centre de Recerca en Teories i Pràctiques Superadores de Desigualtats, en col·laboració amb l'Institut Basc d'Educació i Avaluació, ISEI, del Govern Basc, el Departament d'Educació de la Diputació General d'Aragó i el Departament d'Ensenyament de la Generalitat de Catalunya.
---
SELECTED RESEARCH PUBLICATIONS:
Articles
Girbés, S. (2012). Contracte d'Inclusió Dialògic: ciència i diàleg per a la superació de l'exclusió social. Revista Papers, 67 (En premsa).
Martínez, A; Padrós, M; Girbés, S; (2012). Actuaciones educativas para la convivencia en centros con alumnado inmigrante. Revista Interuniversitaria de Formación del Profesorado. 73 (26,1), 133-144. ISSN 0213-8646
Duque,E.; Ruiz,L.; Girbés, S.; Padrós, M. (2012). Inclusión y éxito educativo: prácticas de aprendizaje y participación de las familias en los centros educativos. OGE, Organización y Gestión Educativa.pp. 19-22. ISSN 1134-0312
Girbés, S. (2011). Grupos Interactivos: hacia el éxito de todos y todas. Suplemento Periódico Escuela.pp.1-1. Wolters Kluwer. ISSN 0214-0721
---
CONGRESSES:
Girbés, S; Tellado, I; Gantt, S. Congreso Internacional de la European Educational Research Association (2012). Educational Actions As The Basis Of Successful Mixed Interventions In Diverse Social Areas To Achieve Social Inclusion. Universidad de Cádiz.
Girbés, S; Petreñas, C; Yuste, Montse. Congreso Internacional Multidisciplinar de Investigación Educativa, CIMIE (2012). Centro Finde: aprendizaje y participación comunitaria para la superación de la exclusión social. Universitat de Barcelona.
Girbés, S; García, C. Congreso Internacional de la American Educatinal Research Association, AERA (2012). Making their voices really count: family and community participation that makes a difference. Vancouver (Canadá).
---