Carme García Yeste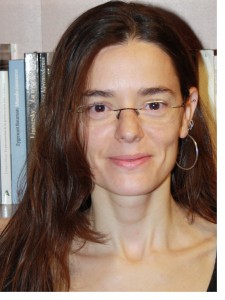 Academic category: Professor at the Department of Pedagogy, Rovira i Virgili University, Tarragona.
Doctoral disseration: Comunitats d'Aprenentatge. De la Segregació a la inclusió. (Defended at the University of Barcelona).
Lines of research: Gender, cultural minorities, Learning communities, Social inclusion from education, Sociology of education. Theory and History of Education.

SELECTED RESEARCH PROJECTS:

 EDUROM. Promoting the access of Roma to LLP, VET and employment through family education in Primary Schools. European Commission (2014-2015). Principal Investigator.
Trayectorias de vida que alejan o acercan a las redes de trata con fines de explotación sexual. Instituto de la Mujer. Ministerio de Sanidad, Servicios Sociales e Igualdad (2013-2015)
La participació de les famílies als centres educatius de primària. Una eina de transformació dels estereotips sexistes. Institut Català de les Dones - Generalitat de Catalunya (2008-2009). Principal investigator.
Comunitats d'Aprenentatge. CREA, Centre de Recerca en Teories i Pràctiques Superadores de Desigualtats de la Universitat de Barcelona, en col·laboració amb el Instituto Vasco de Educación y Evaluación, ISEI, del Govern Basc, el Departament d'Educació de la Diputación General de Aragón, i el Departament d'Educació de la Generalitat de Catalunya.

SELECTED PUBLICATION:
Articles:
Oliver, E.; Puigvert, L.; Valls, R.; Garcia, C. (2012) Actuaciones de éxito desde la investigación que generan transformación social. Revista Interuniversitaria del profesorado, 26(1), 15-23.
García, C., Ferrada, D. & Ruiz, L. (2011). Other Women in research: overcoming social inequalities and improving scientific knowledge through the inclusion of all voices. Qualitative Inquiry, 17 (3), 284-294.
Garcia, C.; Pulido, C. (2010) Internet y los abusos sexuales a menores. Herramientas para la transformación, Trabajo Social Global. Revista de Intervenciones en investigación social, 1(2), 183-201.
Aubert, A.; Garcia, C. (2009) Pedagogía crítica y el éxito académico de todos y todas, Teoría de la Educación. Educación y Cultura en la Sociedad de la Información, 10 (3), 231-242
García, C.; Miquel, V.; Rotger, J.M (2004): Minorías culturales y nuevas tecnologías. Lan Harremanak. Revista de Relaciones Laborales. Nº 11, Pàg. 113-125. Servicio Editorial de la Universidad del País Vasco.
Flecha, R.; García, C.; Melgar, P. (2004): El proceso educativo de convergencia europea, una mirada crítica. Revista Interuniversitaria de Formación del Profesorado. Volum: 18 Número: 3 , pp 81- 89. Saragossa: AUFOP.
Flecha, R.; García, C. (2001): Aportaciones Libertarias a las Comunidades de Aprendizaje . La Transformación de las Escuelas en Comunidades de Aprendizaje. Aula Libre. Por una práctica libertaria. Fraga: MRP "Aula Libre", n. 73, pp. 28-29.
Books:
Garcia, C.; Ruíz, L.; Puigvert, L.; Rué, L. (2009) Hipatia de Alejandria. Un equipo plural de científicas desvela la verdad sobre la primera mujer de ciencia. Barcelona: Hipatia.
Aubert, A., Flecha, A., Garcia, C., Flecha, R. & Racionero, S. (2008). Aprendizaje dialógico en la sociedad de la información. Barcelona: Hipatia.
Book chapter :
Garcia, C.; Flecha, R. (2007) Comunidades de aprendizaje. En La ciudad educa. Aportaciones para una política educativa local. Ediciones del Serbal, pp. 307-318.
Garcia, C.; Flecha, A. (2005): Teen life in Spain. In Steinberg. S. (Ed.) Teen life in Europe. Westport. CT: Greenwood.
García C.; Puigvert, L. (2003): Sociología y currículo. En: Sociología de la Educación. pp 261-280. Pearson Prentice.