Sílvia Molina Roldán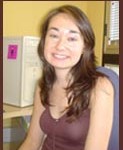 Academic category: Associated professor, Department of Pedagogy, Universitat Rovira i Virgili. Associated professor, Didactics of Mathematics and Sciences, Universitat Autònoma de Barcelona.
Doctoral dissertation: Los grupos interactivos: una práctica de las comunidades de aprendizaje para la inclusión del alumnado con discapacidad. (Universitat de Barcelona) [Interactive groups: a practice in Learning Communities for the inclusion of students with disabilities (University of Barcelona)]
Lines of research:  Inclusive Education, Learning Communities

SELECTED RESEARCH PROJECTS:
Framework Programme:
INCLUD-ED. Strategies for inclusion and social cohesion from education in Europe. Integrated Project. Priority 7, Sixth Framework Programme. European Commission (2006- 2011).
RTD National plan:
Formas de agrupación del alumnado y su relación con el éxito escolar: "Mixture", "Streaming" e Inclusión. Ministerio de Ciencia e Innovación (2008-2011)
Violencia de género en las universidades españolas. Ministerio de Trabajo y Asuntos Sociales. (2005-2008).
Other:
Formació de familiars per a una escola inclusiva.  Agència de Gestió d'Ajuts Universitaris i de Recerca (AGAUR). (2009-2010)
Formació de professorat per a una educació matemàtica de familiars en contextos multiculturals.  Agència de Gestió d'Ajuts Universitaris i de Recerca (AGAUR). (2008-2009)
Violències de gènere a l'àmbit universitari? Realitats formes i superació. Agència de Gestió d'Ajuts Universitaris a la Recerca (AGAUR). (2005-2006).
Educació en valors per la prevenció de la violència de gènere als Instituts d'Educació Secundària. Agència de Gestió d'Ajuts Universitaris i de Recerca. Departament d'Universitats, Investigació i Societat de la Informació (AGAUR). (2004-2005).

SELECTED PUBLICATIONS:

Articles:
Molina, S. (2012). [Review of the book Truth, Beauty, and Goodness Reframed. Educating for the Virtues in the Twenty­First Century, by Howard Gardner], International Journal of Educational Psychology (IJEP), 1(1), 70­72.
Padrós, M., García, R., de Mello, R. & Molina S. (2011). Contrasting scientific knowledge with knowledge from the lifeworld: The Dialogic Inclusion Contract. Qualitative Inquiry, 17 (3), 304-312.
Gatt, S., Puigdellívol, I., & Molina, S. (2010). Mead's Contributions to Learners' Identities, Revista dePsicodidáctica, 15(2), 223-238.
Molina, R & Ríos, O. (2010). Including students with disabilities in Learning Communities. Psychology, Society, & Education, 2(1), 1-9.
Larena, R; Molina, S. (2010). Violencia de género en las universidades: Investigaciones y medidas para prevenirla. Trabajo Social Global, 1 (2), 202- 219
Díez-Palomar, J.; Molina, S. (2010). Matemáticas para las familias, Cuadernos de Pedagogía, 401.
Molina, S.; García, P.; Rué, L.; Díez, J. (2010). Aprendizaje dialógico en las matemáticas y en las ciencias. Revista Interuniversitaria de Formación del Profesorado, 67 (24,1), p.75.
Molina, S.; Christou, M. (2009). Educational inclusion and critical pedagogy. Teoría de la Educación. Educación y Cultura en la Sociedad de la Información, 10(3), 31-55.
Aguilar Rodenas, C.; Alonso Olea, M.J.; Melgar Alcantud, P.; Molina Roldán, S. (2009). Violencia de género en el ámbito universitario. Medidas para su superación. Pedagogía Social. Revista Interuniversitaria, 16, 85-94.
Díez-Palomar, J; Molina, S.; Asún, J-M.; Sáez, L. (2004). Retos docentes en un nuevo contexto. Jiménez, J (coord.) Cuadernos de pedagogía. Biblioteca básica para el profesorado.Barcelona:Praxis. pp. 197-214.