Esther Oliver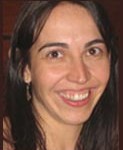 Profession: University teacher of University of Barcelona
Doctoral dissertation: Espais de diàleg entre cultures. Expressions de l'universalisme dialògic en les societats multiculturals. (Defended at the University of Barcelona ).
Lines of research: Multiculturalism, exclusion, knowledge society, techniques of social research, and sociology of the business companies.

SELECTED RESEARCH PROJECTS:

Gender-based violence at universities (2006-2008), reseach developed at the University of Warwick (UK) programa Beatriu de Pinós del Departament d'Innovació, Universitat i Empresa, de la Generalitat de Catalunya.
ETGACE. Education and Training for Governance and Active Citizenship in Europe. Analysis of Adult Learning and Design of formal, non-formal and informal educational intervention strategies. RTD. 5è Programa Marc. DG XII. European Commission. (2000-2002).

SELECTED PUBLICATIONS:

Articles:
Oliver, E., de Botton, L., Soler, M. & Merril B. (2011). Cultural intelligence to overcome educational exclusion. Qualitative Inquiry, 17 (3), 267-276.
Valls, R.; Oliver, E.; Sánchez, M.; Melgar, P.; Ruiz, L. (2007). ¿Violencia de género también en las universidades? Investigaciones al respecto" . Revista de Investigación Educativa , nº25, pp. 219-231 .
Gómez, C.; Oliver, E.; Sordé, T. (2004): Tendencias en Europa: exclusión e inclusión social y laboral de la comunidad gitana. Lan-Harremanak, Revista de Relaciones Laborales: Minorías culturales y nuevas tecnologías. Bilbao.
Flecha, A.; Oliver, E. (2004): Romaní women and popular education. Convergence. Volumen: XXXVII. pp 7-26. Montreal.
Elboj Saso, C. & Oliver Peréz, E. (2003): Las comunidades de aprendizaje: Un modelo de educación dialógica en la sociedad del conocimiento. Revista Interuniversitaria de Formación de Profesorado. Vol. 17 (3), pp. 91-103. Zaragoza: AUFOP. (El número de la revista es el Vol. 17(3), de diciembre de 2003. Páginas de la 91 a la 105.)
Molina, F., Oliver, E., Gómez Bahillo, C. (2003): Barreres i possibilitats de la Comunitat gitana en el mercat laboral a Europa . Àmbits, Núm 28, hivern, pp. 66-70. Barcelona: COLCPIS.
Oliver,E; Flecha,R (2000): Las posibilidades de la sociedad de la información: propuestas para una educación y formación en el medio rural. Revista Educación. Núm 322. pp. 45-59. Madrid.
Books:
Valls, R.; Oliver, E.(2004): Violencia de Género. Investigaciones sobre quiénes, por qué y cómo superarla. El Roure Editorial. Barcelona.
Book chapters:
Oliver, E.; Tortajada, Y.(in press): Education for inclusion in the Information Society. Libro: Khun, M.; Sultana, R. (eds). The Learning Society in Europe and Beyond. Peter Lang. New York.
Oliver, E.; Puigvert, L.(2003): Reformas educativas. Sociología de la Educación. pp 385-410. Pearson Educación. Madrid.
Flaquer, Ll.; Oliver, E.(2002): Polítiques de suport a les famílies. La infància i les famílies als inicis del segle XXI. pp 301-349. Institut d'infància i Món Urbà. Barcelona.
Oliver, E & De Botton, Lena (2000): Una mirada de libertad a través del velo. I Jornadas de Investigación en Educación de Personas Adultas. pp 153-158. El Roure. Barcelona.