Rocío García Carrión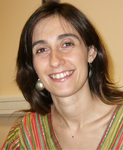 Academic category: Marie Curie Postdoctoral Research Fellow. Faculty of Education. University of Cambridge.
Dissertation: "Contrato De Inclusión Dialógica" en el Colegio La Paz: una propuesta educativa de éxito para superar la exclusión social.
Lines of research: Learning communities, dialogic learning, educational psychology, cultural groups, education overcoming inequalities.
School-family-community links, family involvement.  European Educational Research Association (EERA) Co-convenor Network 14, Communities, families and schooling in educational research.

SELECTED RESEARCH PROJECTS:
ChiPE. Children's personal epistemologies: capitalizing children and families knowledge in schools towards effective learning and teaching. FP7-PEOPLE-2012-IEF (332200) European Commission (2013-2015). PI: Rocío García Carrión. Scientist in charge: Linda Hargreaves.
INCLUD-ED. Strategies for inclusion and social cohesion from education in Europe. INTEGRATED PROJECT Priority 7 of Sixth Framework Programme. (2006- 2011).
Formas de agrupación del alumnado y su relación con el éxito escolar: 'Mixture', 'Streaming' e Inclusión. Pan Nacional I+D+I. Secretaría de Estado de Universidades e Investigación. Ministerio de Educación y Ciencia (2009-2011)
Actuaciones socioeducativas de éxito para la superación de la pobreza. Plan Nacional I+D+I. Secretaría de Estado de Universidades e Investigación. Ministerio de Educación y Ciencia (2012-2014). Main Researcher: Prof. Rosa Valls
YOUTRAIN. New Challenges of Youth Training in the Knowledge Society DG Education & Culture. European Commission.(2004-2006).
ROM-IN. Participació de la joventut gitana: cap a la inclusió social. Secretaria General de la Joventut. Observatori Català de la Juventut. (2005-2006).
Comunitats d'Aprenentatge. CREA, Centre de Recerca en Teories i Pràctiques Superadores de Desigualtats de la Universitat de Barcelona, en col·laboració amb el Instituto Vasco de Educación y Evaluación, ISEI, del Govern Basc, el Departament d'Educació de la Diputación General de Aragón, i el Departament d'Ensenyament de la Generalitat de Catalunya.

SELECTED PUBLICATIONS:
Articles:
García, R. (2012). Out of the ghetto psychological basis of dialogic learning. International Journal of Educational Psychology, 1(1), 51-69.
Flecha, A., García, R., & Rudd, R. (2011). Using Health Literacy in School to Overcome Inequalities. European Journal of Education, 46(2), 209–218.
Flecha, A., García, R., Gómez, A., Latorre, A. (2009). Participación en las escuelas de éxito: Una investigación comunicativa del proyecto INCLUD-ED. Cultura & Educación, 21(2), 183-196.
Padrós, M., García, R., de Mello, R. & Molina S. (2011). Contrasting scientific knowledge with knowledge from the lifeworld: The Dialogic Inclusion Contract. Qualitative Inquiry, 17 (3), 304-312.
García, R.; Mircea, T. and Duque, E. (2010) Socio-Cultural Transformation and the Promotion of Learning, Journal of psychodidactics, 15(2), 207-222.
Book:
Racionero, Sandra; Ortega, Sara; García, Rocío; Flecha, Ramón. (2012). Aprendiendo contigo. Barcelona: Hipatia Editorial. ISBN: 978-84-938226-3-7.
 Book Chapters:
García, R. (in press) Chapter 13: Achieving social cohesion in Europe through education: a success story, In Suhayb, M. (eds) Rethinking education in Social Cohesion, London: Palgrave Macmillan
García, R.; Melgar Alcantud, P.; Sordé Martí, T.  (in press)   From refusal to getting involved in Romani research, In Mertens D. (eds) Being and becoming indigenous social researchers. Walnut Hills, CA: Left Coast Press