Mimar Ramis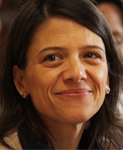 Academic Category: Associated Professor at the University of Barcelona.
Lines of research: immigration, education of second generation, learning communities
Selected research projects:
Teorías y Sociedades Dialógicas. Nuevas transferencias ciencia-sociedad en la era del conocimiento. Plan Nacional I+D+I. Ministerio de Ciencia y Tecnología.(2003-2005).
AMAL: Inmigración y mercado laboral. Plan Nacional I+D+I 2000-2003. Programa de socioeconomía. Ministerio de Ciencia y Tecnología. Secretaría de Estado de Política Científica y Tecnología . (2001-2005).
Callí Butipen: Mujer Gitana y Mercado Laboral. Plan Nacional I+D+I. Comisión Interministerial de Ciencia y Tecnología. Ministerio de Trabajo y Asuntos Sociales-Instituto de la Mujer. (2003-2004).
Lluita contra el racisme: Millora de la qualitat de l'atenció als immigrants i refugiats polítics a Europa, en matèries d'educació i formació, atenció psico-social. Programa d' Acció en la Lluita Contra la Discriminació VS/1999/0425 B3-2006, Commissió Europea. (2000-2001).
NETWERK. Creació de xarxes per a una millor assistència dels immigrants i refugiats a Bèlgica. Projecte subvencionat pel Govern de Flandes, Bèlgica. (2000-2001).
Selected publications:
Ramis, M. (2004): Itinerarios educativos de una familia inmigrante. Aula de Innovación Educativa, Núm, 131, maig, pp. 58-61. Barcelona: Graó.
Flecha, R. ; Miquel, V. ; Ramis, M. ; Rotger, J.M. (2002): El somni de les famílies en les comunitats d'aprenentatge, en Aparici, E. et al. 2003.La família en el procés educatiu a les Illes Balears. Palma de Mallorca: Lleonard Muntaner Editors.
Ramis, M. et al. (2004): Investigación Social de Calidad: Metodología Comunicativa y Utilidad Social en Transformaciones Globales: confianza y riesgo. Publicació electrònica del VIII Congreso Español de Sociología