MICHAEL BUROWAY at UB, 7TH OF MARCH: "NEW SOCIAL THEORY FOR NEW SOCIAL MOVEMENTS"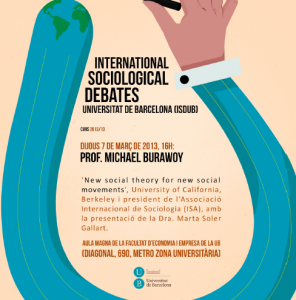 Next Thursday March 7th, at 4 PM, at the Aula Magna of the School of Economics and Business, will be with us the professor MICHAEL BURAWOY, from the Department of Sociology at the University of California-Berkeley and currently President of the International Sociological Association (ISA), who will speak about:
 "NEW SOCIAL THEORY FOR NEW SOCIAL MOVEMENTS"
Burawoy is known at the international level for opening the debate on the current and necessary role or the Public Sociology, with a great impact globally since he started his Presidency of the American Sociological Association in 2004.
This conference is part of the series International Sociological Debates at the University of Barcelona (ISDUB) organized by the consolidated research groups at UB linked to sociology. Following the agreement of the Board of Studies of Sociology, ON DATE MARCH 7TH, FROM 4PM TO 6PM THE CLASSES of the Sociology degree ARE TRANSFERRED to the Aula Magna in order for all the students to be able to attend the conferences of the ISDUB.
 For more information: http://www.ub.edu/sociologia/isdub/programa.html
 Marta Soler
 Grup de Recerca Consolidat GIS (Gènere, Identitat i Societat)